Westphalian
Westphalian: The Westphalian, or Westfalen, is a warmblood horse bred in the Westphalia region of western Germany. In 1826 the state stud at Warendorf was founded, and in 1904 the breed registry opened in Muenster. In the beginning the breed was based upon Oldenburg blood and also Anglo Normandy stallions were used. Since 1920, the Westfalen warmblood horse breeding has been based upon Hanoverian blood.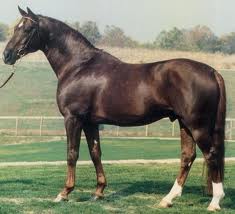 This breed has produced a number of sires very influential to sport horse breeding, including Polydor and his descendant Pilot, and Rubinstein. A relativly large horse standing between 15.2 to 17.2 hands, the breed is suitable for all types of riding.
Colors other than black, bay, chestnut, and grey are rare. The breed is very competitive in dressage and show jumping. As of September 2010, the studbook was ranked #6 worldwide in show jumping, #5 in dressage and #12 in eventing by the World Breeding Federation for Sport Horses.








Back to Horse Riding Connection