Trakehner
Trakehner: The Trakehner is one of the oldest European warmblood breeds, originating early in the 13th century in the province of East Prussia. The breed is based on a small local East Prussian horse, the "Schwaike", that was crossed with various larger "imported" stallions to provide mounts for soldiers. The Royal Stud was founded in 1732 by King Frederick William I of Prussia and operated until 1944, when the fighting of World War II led to the annexing of East Prussia by Russia, and the town containing the stud renamed as Yasnaya Polyana.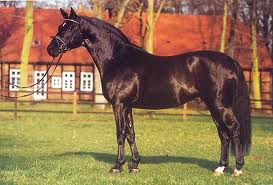 Today in Germany the breed is considered a federal responsibility and stallion inspections are held in Neumünster, Germany, each October. Approved stallions are required to complete in extended performance tests, which rate the horses gaits, temperament, jumping ability, and suitability over a cross country course, before being given full breeding licenses.
While this breed competes in nearly all equestrian disciplines, they are particularly prized as dressage mounts, due to their sensitivity, intelligence and way of going. With its characteristic, powerful hindquarters, the breed also produces outstanding jumpers. However, perhaps the most outstanding characteristic of the Trakehner is its temperament, they are alert and intelligent, yet very reliable and accepting, anxious to please. This breed is a large horse, typically standing between 15.2 and 17 hands high. Virtually any color can be found, with bay, gray, chestnut and black being the most common, though the breed also includes few roan and tobiano pinto horses. The most famous Trakehner of modern times is undoubtedly the gray stallion Abdullah, bred in Germany. He represented the United States in the 1984 Olympic Games at Los Angeles and, with his rider Conrad Homfeld, brought home the Team Gold and Individual Silver Medals.








Back to Horse Riding Connection