Thoroughbred
Thoroughbred: This breed of horse's ancestry traces back to three foundation sires, the Darley Arabian, the Godolphin Arabian and the Byerly Turk. These three stallions were imported to England around the turn of the 17th century and were bred to the native racing stock producing a powerful race horse that was superior in speed to any other. During the 18th and 19th centuries, this new breed spread rapidly outside of England, and by the 20th century thoroughbred breeding was being practiced worldwide.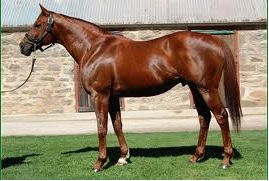 During the American Revolution importations of horses from England practically stopped, when they resumed the center of Thoroughbred breeding and racing in the United States moved west, it was then that Kentucky and Tennessee became notable centers. Thoroughbreds in the United States have historically been used not only for racing but also to improve other breeds. For example the imported stallion, Messenger, was the foundation of the Standardbred. Thoroughbreds are also often crossed with breeds such as Arabian bloodlines to produce the Anglo-Arabian as well as with the Irish Draught to produce the Irish Sport Horse.
Thoroughbreds are considered a "hot-blooded" horse, known for their agility, speed and spirit. They are used mainly for racing, but many retired race horses find new purpose in other riding disciplines, such as show jumping, combined training, dressage, polo, and fox hunting.
Certain horses have earned the title of "Greats", they are legendary in the world of racing.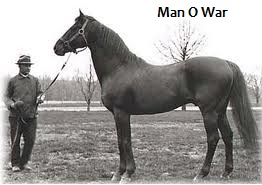 Man o' War(1917-1947) Man o' War breathed life back into American horseracing in the 1920s, despite competing for just two years. After he died he was voted the greatest thoroughbred of the first half of the 20th Century. Man o' War won three stakes races in 17 days, and when he retired 16 months later, he was a national hero. Man o' War won 20 of his 21 races.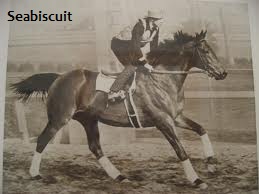 Seabiscuit(1933-1947) Seabiscuit's career mainly involved claiming races. At 4, Seabiscuit set records in four Handicaps, won three others and was named Champion Male Handicap Horse. Seabiscuit beat War Admiral in the 1938 Pimlico Special and was named 1938 Horse of the Year. Seabiscuit finished his career winning 33 of his 89 starts.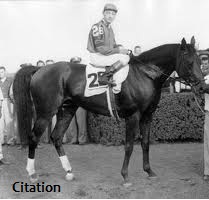 Citation(1945-1970) Citation won 8 out of 9 races in his first year, and was named Champion Two Year Old. The colt is ranked at Number 3 in the Top 100 US Champions of the 20th Century. He became the eighth American Triple Crown champion in 1949, and the first horse to win 16 major stakes races in a row. By the end of his three year old season, Citation had 27 victories in 29 starts and A 15-race winning streak won him Horse of the Year in 1950. His 1951 Hollywood Gold Cup victory put Citation's career earnings over $1 million.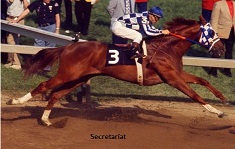 Secretariat(1970-1989) In 1972 Secretariat claimed eight consecutive victories and was the first of only two 2-year-olds to ever be crowned Horse Of The Year. In 1973 Secretariat won the Triple Crown, winning the Belmont Stakes by 31 lengths in a new world record time. This record still stands, along with his record set at the Kentucky Derby.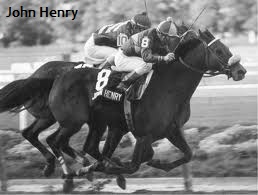 John Henry(1975-2007) John Henry won the 1981 Jockey Club Gold Cup at Belmont Park to secure his first Horse of the Year title at 6 years old. In 1983, he became the first racehorse to surpass $4 million in career earnings and he was voted racehorse of the decade for the 1980s. The 1984 Ballantine Scotch Classic,his last race, John Henry claimed his 39th career victory and his second Horse of the Year title. John Henry is ranked 23rd in the Top 100 US Champions of the 20th Century. He won 39 times in 83 starts.








Back to Horse Riding Connection