Standardbred
Standardbred: This powerful race horse is a relatively young breed being just over 200 years old, founded in the late 18th century in the eastern states of the US. The stallion, "Messenger", an English thoroughbred, is said to be the American ancestor of the breed. Messenger was brought to the United States in 1788 and later was owned by Henry Astor. For 20 years Messenger produced many of the greatest American race horses on stud farms in New Jersey, Pennsylvania and New York. Messenger's great grandson, "Hambletonian," was foaled in 1849 in upstate New York, and soon became one of the fastest trotting horses of his time. Hambletonian sired more than 1300 foals between 1851 and 1875 and it has been estimated that more than 90% of Standardbred horses today are related to him. The famous "Man O'War" was also one of Messengers descendants.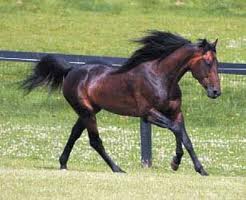 The name "Standardbred" was first used officially in 1879, due to the fact that, in order to be registered, every Standardbred had to be able to trot a mile within the "standard" of 2 minutes and 30 seconds. The breed tends to be more muscled and longer bodied than the Thoroughbred and are considered to be the worlds fastest harness racing breed.
Early Standard races were contest held along town roads, with men challenging one another to see who had the fastest horse. It wasn't uncommon for major city streets to be cleared for races to be conducted.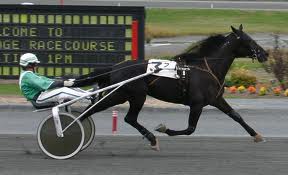 Today harness racing is primarily centered in the Northeast and Midwest. Virtually every major population center in these areas boasts one or more major tracks. The sport is also popular in Florida, California, and throughout Canada.
Standards have a average height of around 15 hands and most often are bay in color, although chestnut, brown and black are not uncommon. This breed is good natured and is known for having a calm disposition, they make great family horses and can be found on the trail and in show rings across the US.








Back to Horse Riding Connection