Shagya Arabian
Shagya Arabian: The Shagya-Arabian originated at Babolna, the second oldest stud in northwest Hungary. The founding sire of the breed was Shagya, a cream colored Arabia stallion with ancestors of the Kehilan and Siglavy strains. Born in Syria in 1830, he was taller than the average Arabian of the time, standing 15.2-1/2 hands high.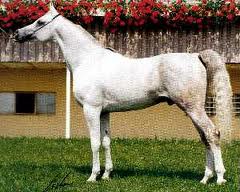 The Shagya is an exceptional riding horse of distinct Arabian type, yet hardy enough to be driven in harness. In the past it was used as a cavalry horse and is now popular in sport horse disciplines such as dressage, eventing and endurance riding.
The 2006 FEI Endurance World Champion was a Shagya gelding bred at the Babolna stud. Shagyas tend to be taller, usually at least 15 hands tall and commonly 16 hands, less refined, and bigger-boned than purebred Arabians.








Back to Horse Riding Connection