Rocky Mountain Horse
Rocky Mountain Horse: The Rocky Mountain Horse originated on the farm of Sam Tuttle in Spout Springs Kentucky, with a stallion named "Old Tobe". This stallion, thought to be of spanish ancestory, carried many patrons safely and comfortably (due to his ambling gate) over the rugged mountain trails of Natural Bridge State Park where Sam held the concession for horseback riding.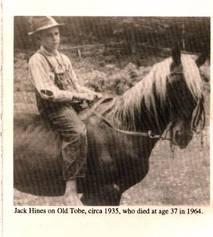 Old Tobe was also used for breeding up to the old age of thirty four. He proved to be a very prepotent stallion and passed on his smooth gait, easy going disposition, and chocolate color to his get.
The stallion's offspring were always in demand and many of the present Rocky Mountain's carry his bloodline.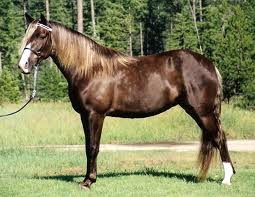 The breed standard requires that the height of Rocky Mountain be no less than 14.2 hands and no more that 16.0 hands. The chocolate colored coat with flaxen mane and tail is by far the most popular color, but the rocky mountain can be found in most common horse colors.
Only solid body colors are accepted for registration and certification. Paint, appaloosa, spotted and all white horses are not accepted in the Rocky Mountain registry. Because of their sure footedness, temperament, endurance and smooth ambling gait this breed is a favorite among trail riders.








Return to Horse Riding Connection