Oldenburger
Oldenburger: The Oldenburger originated in the provinces of Oldenburg and East Friesland in the 17th Century as a grand carriage horse. This was largly due to the efforts of Graf Anton Günther von Oldenburg (1603-1667), renowned as a great horseman, he was well respected for his traditional dressage riding.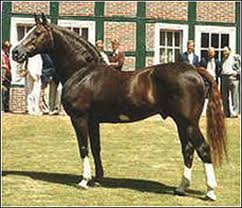 Von Oldenburg crossed Frederiksborgers from Denmark, refined Turkish horses and powerful Neapolitan and Andalusian horses with his own breeding stock. In the late 1800's the english thoroughbred, cleveland bay and the hanoverian were also introduced into the breed. In addition during that period a studbook for the Oldenburg breed were established.
After the second World War breeders made a focused effort to lighten Oldenburgs, producing a more refined, but still large riding horse. In the 1970's recognition of the world class qualities of the Oldenburg, intensified the breeders efforts to lighten the line. The new stallions such as Kronprinz XX (1960) by Nizam, Furioso II (1965) by Furioso XX, Inschallah X (1968) by Israel, Ultraschall (1978) by Ultra Son and Tiro (1972) by Tremolo all gained great notoriety. Since the complete reworking of type and quality, Oldenburgs are now recognized as one of the most successful breeds in Germany and North America, sought after as competition horses worldwide.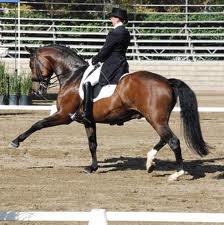 The modern Oldenburg can best be identified by the "O" and crown brand on the left hip. Products of the "Oldenburg International" program have a similar brand, with an "S" within a crowned, incomplete "O". Underneath the Oldenburg brand are the last two numbers of the horse's life number. The official brand can only be placed on Oldenburg horses prior to 2 years of age. A digital micro-chip implanted in the crest of the neck is another identification method used.
Oldenburg which has developed into a competition breed, excelling at dressage and driving, is the tallest and heaviest of German warmbloods. It stands between 16.2 and 17.2 hands high, and is usually gray, black, brown, bay, but rarely chestnut.








Return from Oldenburger to Horse Riding Connection