Nokota
Nokota: This breed of horse was developed in the southwestern corner of North Dakota, in the Little Missouri River Badlands. Feral horses were first encountered by ranchers in the 19th century, and horses from domestic herds mingled with the original feral herds.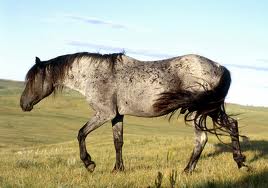 When Theodore Roosevelt National Park was created in the 1950s, the National Park Service, not allowing wild or feral equines, spent the next few decades attempting to remove all of the horses. In the late 1970s, growing public opposition to the removal of feral horses prompted management strategy changes, and today the herds within the Theodore Roosevelt National Park are managed for the purposes of historical demonstration. However, the Park added outside bloodlines in the 1980s with the aim of modifying the feral horses appearance.
The dominant herd stallions were removed and replaced with two feral stallions from Bureau of Land Management Mustang herds, a crossbred Shire stallion, a Quarter Horse stallion and an Arabian stallion. At the same time that the stallion replacements took place, a large number of horses from the park were rounded up and sold at auction. In 1999, the Kuntz brothers founded a Conservancy to protect and conserve the breed. In 1993, the breed was declared the Honorary State Equine of the state of North Dakota. Members of the breed are often blue roan, which is a color rare in other breeds, although black and gray are also common. Other, less common, colors include red roan, bay, chestnut, dun, grullo and palomino. The horses generally stand between 14 and 14.3 hands.








Return from Nokota to Horse Riding Connection