Phenomenal Ponton Takes Individual Title While France Tops the Teams
Louise Parkes, FEI Communications



Spain's record-breaking partnership of Maria Alvarez Ponton and Nobby took their fourth Championship title in a row when putting in another phenomenal performance at the FEI European Endurance Championships 2011 in Florac, France yesterday. And the host nation had plenty to celebrate too, as Virginie Atger, Julien Goachet, Sunny Demedy and Benedicte Santisteva claimed the team honours for France.
Concerns about the intense heat in the days leading up to the event dissipated when a cooling mist shrouded the mountainous course as the riders set off with a racing start at 4.30am. And it was an extraordinary sight as their headlamps guided the 76 competitors from 17 countries through the darkness over the early stages of their 160 kms challenge. Florac is recognised as one of the toughest Endurance tracks in the world, with a climb to 1,665 metres at its highest point, and a completion, let alone a victory here, is a coveted achievement in this most demanding of equestrian sports.
The track did not follow the modern "clover-leaf" formula often used in the sport today, in which the loops return to a central base during the course of the race. In contrast, the six loops on the Florac track stretched out over fresh ground and, while helping maintain the interest of the horses throughout, this presented a significant logistical challenge to the hard-working support crews and officials.
The Stuff of Legend
Ponton and Nobby are already the stuff of legend however. The Spanish rider and her little 148cms super-champ broke all previous records with their hat-trick that included the 2008 World title, 2009 European title and then their gold medal winning performance at last year's Alltech FEI World Equestrian Games™ in Kentucky, USA. And, a year later, they have now raised the bar even higher with their fourth extraordinary success.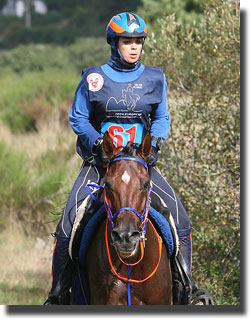 Crossing the finish line in 08:45:05, they had an average speed of 18.237 kmh while silver medallist Sabrina Arnold from Germany broke the beam just under a minute later with an average speed of 18.208 kmh. Individual bronze went to Pierre Fleury and Kergof from France who cleared the line in 08:53:14 after recording an average speed of 17.958. A total of 43 horses and riders qualified through all phases to finish.
The European team title came down to a two-way battle between the Spanish and French, and it was the late elimination of Spain's Francisco Caselles Calm and Arizone de Lafon that decided the result. All four members of the French team completed and their total time of 27:24:55 gave them an advantage of almost 23 minutes over the the Spanish trio of Ponton, Oriol Casals Fores (Zarha de Vilaformiu) and Laia Crusellas (Flying Tornado). Bronze went to another team reduced to just three team-members, the Belgian side of Celine Just (Jahman), Michel Lequarre (Sahid des Fontaines) and Maritza Pereira (Lima du Barthas) whose total time of 30.06.12 was just 10 minutes faster than that of the Italians who missed out on the medal podium when slotting into fourth place.
A total of 11 teams lined out, with the fifth-place Dutch and sixth-placed Slovakian team performing beyond expectations. The fact that all four members of the Slovakian team completed is clear testament to the progressive and professional development of the sport in the region.
Glorious Moment
Yesterday's success was yet another glorious moment for Ponton, who specialises in producing Nobby only rarely but to spectacular effect. This partnership first burst onto the international Endurance scene in December 2006 when finishing third in the 120 km race in Dubai (UAE) and they have been a force to be reckoned with every since. Ponton's husband, Jaume Punti-Dachs who is one of the leading Endurance trainers for the UAE's Sheikh Mohammed, is also a highly competitive Endurance athlete and helps Maria to keep Nobby in great shape. "I'm delighted with this win for myself and my great little horse - he really is unique", Ponton said, "to win four Championships together is something very special!".
In the Open classification, the United Arab Emirates' Ali Khalfan Al Jahouri and Kafia came out on top when registering the quickest average speed of the competition - 18.481 kmh - while Qatar's Jasim Mohammed Al Maadhadi and Mazayha finished third and fellow-countryman Faleh Nasser Bughenaim and Leonardo finished fifth.
Results:
European Team Championship: GOLD - France 17.4714 - Antall de Jalima (Virginie Atger), Lubiana de Coat Frity (Julien Goachet), Nerval de Beders (Sunnsy Demedy), Djour de Bozouls (Benedicte Santisteva); SILVER - Spain 17.2872 - Nobby (Maria Alvarez Ponton), Zarha de Vilamormiu (Oriol Casals Fores), Fying Tornade (Laia Muixi Crusellas); BRONZE - Belgium 15.9052 - Jahman (Celine Just), Sahid des Fontaines (Michel Lequarre), Lima de Varthas (Maritza Pereira).
European Individual Championship: GOLD - Nobby (Maria Alvarez Ponton) ESP 18.237 kmh; SILVER - Beau (Sabrina Arnold) GER 18.209 kmh; BRONZE - Kergof (Pierre Fleury) FRA 17.958 kmh.


Return to Horse Riding Connection