Dales Pony
Dales Pony: Dales Ponies are the largest of England's native pony breeds. This strong and rugged horse can stand as high as 14.2 hands and can weigh over 1000 Lbs.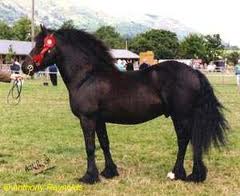 They typically have long manes and tails with feather around the hooves. Most commonly they are black, dark brown or gray. Dales are intelligent, good natured and easy to work.
The Ponies origin is the upper dales of the eastern slopes of the Pennine range, from the High Peak in Derbyshire to the Cheviot Hills near the Scottish Border.


The pony provided power in the lead mines of Allendale and Alston moor, working underground and carry lead ore to the Tyne seaports.
Also used in coal mines, on farms and as they were able to bear loads out of proportions to their size, a pack horse.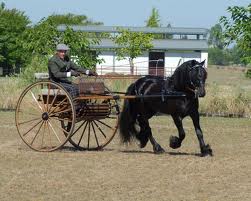 The combination of strength, agility, thrift, hardiness and high courage, with good confirmation and a calm, intelligent nature, makes the Dales Pony a first-class riding and driving pony.
There are less than two hundred of these rare ponies in all of North America.




Return from Dales Pony to Horse Riding Connection