Curly Horse
Curly Horse:Horses with curly coats are most certainly an ancient breed. They have been depicted in art and statuary in early China as far back as 161 AD. The Sioux and Crow Indians had Curlies horses as early as 1800.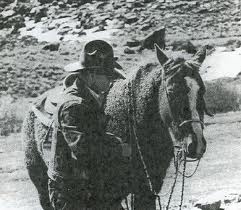 Also known as the American Bashkir Curly Horse, the majority of the breed descended from a herd of found by the Damele family in 1898 roaming the mountain ranges of Nevada. They interbred the tough, intelligent range Curlies with their ranch horses an Arabian stallion named Nevada Red, and later a Morgan stallion named Ruby Red King.
The Damele's found the Curly coat often came through on the cross-bred foals, showing that the Curly gene was dominant. Other characteristics also passed to their get were strong bone and hooves, a calm, intelligent, easily trainable temperment and stamina.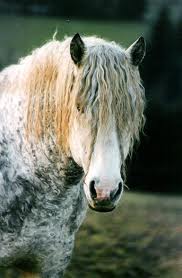 Curlies come in a variety of sizes and shapes, and all colors. The winter curls on different individuals can range from crushed velvet looking, to marcelle waves, to tight ringlets, to "french knot" microcurls.
Manes and forelocks can be corkscrewed, ringletted, or dread locked. Tails may have some wave or curl. The hair in their ears is curly, the whiskers, eyelashes, and fetlocks are often curly or wavy.
In summer, Curlies typically shed out to a slick coat, sometimes still appearing slightly wavy. Some Curlies keep strongly curled hair all year round, though not as thick or long, in the summer. The coat is hypoallergenic, a great option for many people allergic to other horses.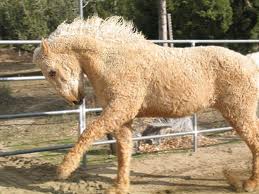 Although there is a "dominant" curly gene that makes it possible to get curly-coated foals from curly coated parents, there is also a "recessive" gene that occasionally causes curly-coated foals to show up in the straight coated breeds from a pony to a draft horse.
This breed typically ranges from 14.1 to 15.1 hands high. However curlies can be found from mini to warmblood or draft size horses.




Return from Curly Horse to Horse Riding Connection