Connemara Pony
Connemara Pony: The Connemara Pony is Ireland's only native breed. The breed evolved on the rocky coast of western Ireland (for which it is named) where it had to develop an ability to move quickly across rough terrain. The harsh Irish weather and unforgiving landscape helped develop a breed that is resiliant and adaptable.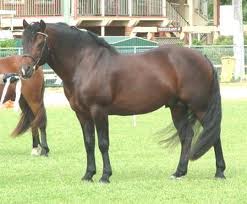 Their Average Height is 13 to 15 hands with the colors ranging from Grey, bay, dun and brown. Some roans, an occasionally chestnut, black, and palomino. Full maturity is at five years of age, sometimes older, and they can live well into their 30's.
Characteristics like good temperament, endurance, intelligence, soundness, surefootedness and jumping ability make this breed one of the world's leading sport ponies. Easy keepers, they do not require a rich diet to stay healthy and fit. Not only sturdy and versatile as sport ponies, they are also an exceptionally gentle breed that bonds easily with people.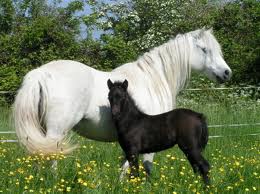 Some believe that the Connemara is from the Scandinavian ponies that the Vikings first brought to Ireland. Legend, however, says that galleons from the Spanish Armada ran aground in 1588, and the Andalusians on board were set loose. The Spanish horses breed with the native stock, refining the local ponies. The harsh lands made these horses into hardy, strong individuals. Today, the ponies are bred worldwide, in Ireland and the United Kingdom, as well as on the European Continent, the United States, Canada, Australia, New Zealand and South Africa.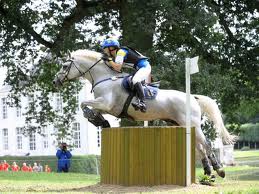 Today the breed is gaining popularity throughout the world as both an adult and children's pony. Its temperament and adaptability makes it well suited to a variety of disciplines, from jumping, dressage, driving and endurance.
The Connemara Pony Stud Book published in 1926. This was compiled by around thirty, mostly local gentlemen who formed themselves into the Connemara Pony Breeders Society with the purpose of selecting a nucleus of ponies from the dwindling number of local mares and promoting them.
Some legendary ponies include Nugget who at age 22 cleared a 7' 2" jump and subsequently won over 300 prizes internationally, earning over 4,500 pounds sterling in prize money. In 1939, Little Squire won the Open Championship by clearing fences of seven feet. The American Press dubbed him "the littlest horse with the biggest heart."




Return from Connemara Pony to Horse Riding Connection