Belgian Warmblood



Belgian Warmblood: The belgian warmblood is one of the more recent members of the European warmblood family and has achieved considerable success in a relatively short period of time. Belgium has traditionally specialized in the production of big, powerful horses well suited for agricultural use.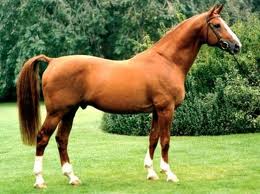 However the emphasis has now shifted to equestrian competition, and many belgian breeders now concentrate on the breeding of warmblood riding horses.
The history of the breed begins in the 1950's when the lighter belgian farm horse was crossed with the gelderlander to produce a heavyweight riding horse.


The gelderlander cross was discontinued about 10 years later when it was replaced by the holsteiner and the selle francais.
During this time thoroughbred and the anglo-arabian bloodlines were also introduced.
This has produced a powerful, straight moving horse averaging around 16.2hh. The coat can be any solid color.


Return from Belgian Warmblood to Horse Riding Connection